Today, ChargeLab is announcing the addition of $15 million in new financing to their Series A, doubling funds previously raised and bringing the round's total to $30 million. This expansion includes $10 million in new equity financing at an increased valuation and $5 million in venture debt. The company's first Series A tranche of $15 million led by King River Capital was previously announced on May 18, 2022.
As part of this equity financing, ChargeLab is welcoming two new strategic investors: EV charging network operator, Silver Comet, and intelligent power management company, Eaton. Both strategic investors are collaborating with ChargeLab commercially. Silver Comet plans to build a network of DC fast charging stations leveraging ChargeLab's technology, while Eaton has bundled a version of ChargeLab's platform with its line of EV chargers in North America.
"The EV charging industry remains nascent, making strategic partnerships essential for building a resilient ecosystem," said Zak Lefevre, co-founder and CEO of ChargeLab. "With Eaton as an investor, we're thrilled to be working closely with one of the world's leading providers of EV charging hardware. We've also expanded our portfolio of strategic investors by welcoming Silver Comet as a shareholder."
"What I'm most excited about today is the robustness and scalability of our product," added co-founder and CTO, Ehsan Mokhtari. "Silver Comet and Eaton are incredibly sophisticated players. I'm proud that the product we've built met their high standards for quality and security."
ChargeLab builds software to operate and optimize electric vehicle charging equipment. ChargeLab's software runs at the edge and in the cloud, empowering fleets, building operators, and utilities to deploy large numbers of EV chargers and manage them as an intelligent network. ChargeLab's API-first architecture makes its platform more modular and scalable than those of its competitors. Key capabilities of the ChargeLab platform include automated monitoring of EV chargers, management of pricing and access rules, payment processing, and electrical load balancing.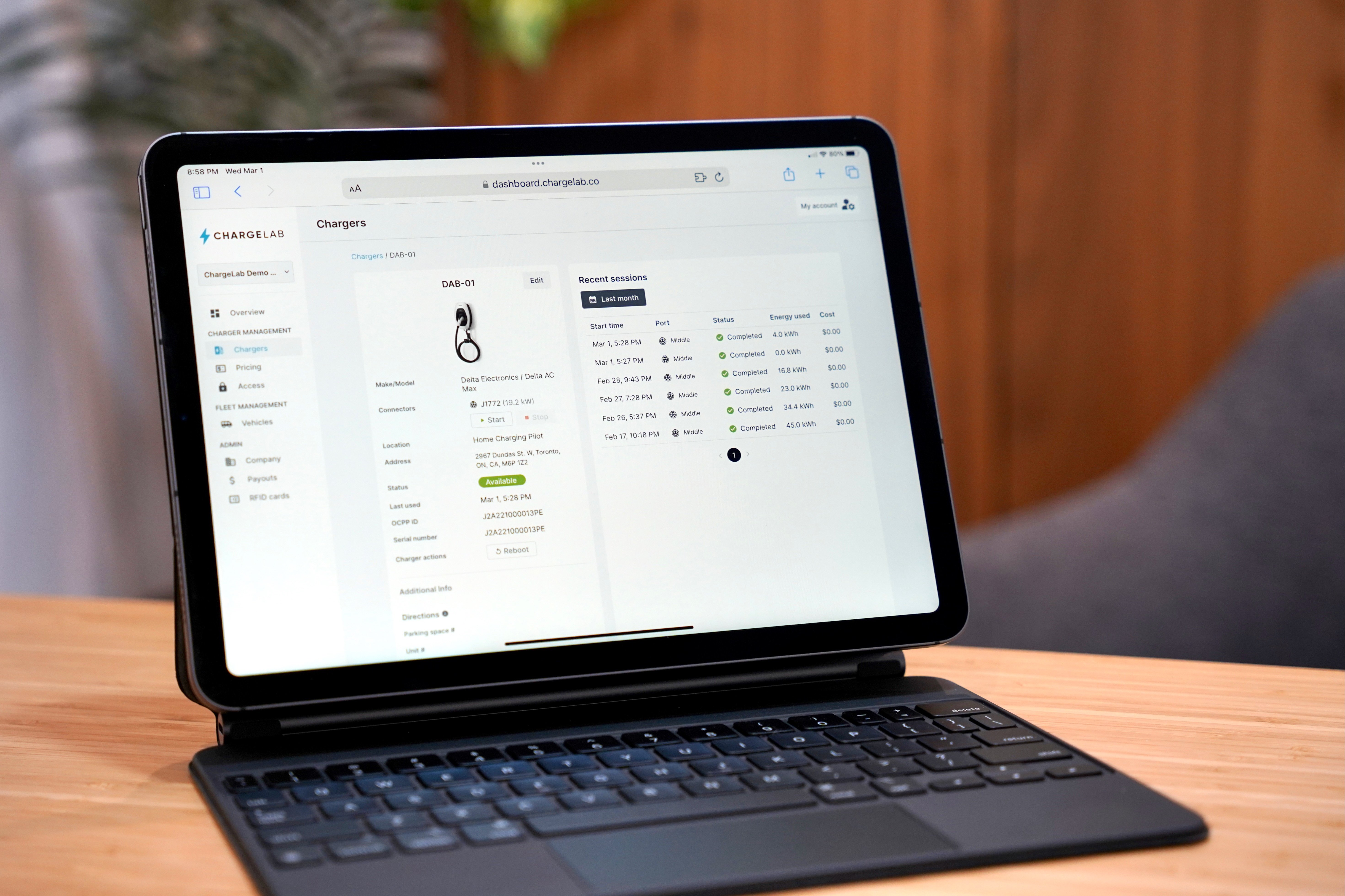 In addition to Eaton EV chargers, ChargeLab's hardware-agnostic platform actively manages EV chargers built by ABB, Zerova (Phihong), United Chargers (the manufacturer of Grizzl-E), Lite-On, EVBox, Siemens, Tritium, and others. ChargeLab and these manufacturers form part of an open EV charging ecosystem driven by the Open Charge Point Protocol (OCPP).
ChargeLab's core product is a cloud-based charging station management system (CSMS). It also provides apps for EV drivers, dashboards for fleet managers and site hosts, and open APIs for integration with third-party systems. ChargeLab's CSMS is white labeled by leading charging networks throughout North America, including Girardin Energie, TurnOnGreen, EVSTART, and Coral EV.
This additional financing will extend ChargeLab's runway, allow the company to expand its engineering team, and help introduce new products into the market. ChargeLab's objective is to become the most ubiquitous back-end platform for managing smart EV chargers.
About ChargeLab
ChargeLab builds a hardware-agnostic software platform for managing electric vehicle chargers. Their mission is to solve smart EV charging at scale. ChargeLab's customers include fleets, building owners, convenience stores, and utilities. They leverage ChargeLab's charging station management system (CSMS) and open APIs to manage thousands of EV chargers more efficiently.
About Silver Comet
Silver Comet Energy, formed in 2022, is a new EV charging network operator and technology provider based in Atlanta, Georgia. Silver Comet Energy partners with convenience store operators to help them deploy and operate DC fast charging sites. The company also works with retail brands who are interested in pursuing NEVI funding and deploying DC fast chargers but are new to EV charging technology.
About Eaton
Eaton is an intelligent power management company dedicated to improving the quality of life and protecting the environment for people everywhere. The company is guided by its commitment to do business right, to operate sustainably and to help customers manage power today and well into the future. By capitalizing on the global growth trends of electrification and digitalization, Eaton is accelerating the planet's transition to renewable energy, helping to solve the world's most urgent power management challenges, and doing what's best for stakeholders and all of society. Founded in 1911, the company is marking its 100th anniversary of being listed on the New York Stock Exchange. Eaton reported revenues of $20.8 billion in 2022 and serves customers in more than 170 countries.
Media contact:
ChargeLab Inc.
press@chargelab.co
1 (800) 636-0986 ext. 210
Note to reader: all monetary figures are in U.S. dollars.