Electric vehicles are having a moment right now, and that momentum is only projected to grow in the coming years. In mid-2020, the number of US car shoppers who expressed interest in electric vehicles surpassed 50%. By 2025, annual EV sales are expected to reach 20.6 million (compared to 6.6 million in 2021). Charging network providers that are ready to enter the market sooner rather than later will gain a competitive advantage in this rapidly growing sector, and white label EV charger technology is the key to moving first. In this article, we'll examine the benefits that white label EV charging solutions can provide for all kinds of companies, from value-added resellers to emerging companies entering the industry for the first time.
What is a white label EV charger?
A white label EV charger is technology that allows any company to use pre-existing tools to offer their customers or users a fully branded experience. The term "white label" is often used in the tech world to indicate a product that can be rebranded or repurposed without needing to be retooled. In other words, an EV charger that is already fully functional and can be rebranded to belong to any company's user experience is white label technology. In the case of electric vehicles, the technology in question can be either hardware, as in the physical charging station, or software that powers both the back-end network and the customer-facing system. Here are a few critical features of most white label EV charging solutions:
Web app: Users should be able to manage their accounts, update payment information, change settings, and more from a web app available on desktop and mobile devices.
Mobile app: Offering a branded mobile app takes the user experience one step further by creating a contained ecosystem in which users can interact (from anywhere).
Network cards: Make it easy to tap and go with a wallet-sized card plus key chain tag that carries your branding and gives your customers access to any EV charger in your network.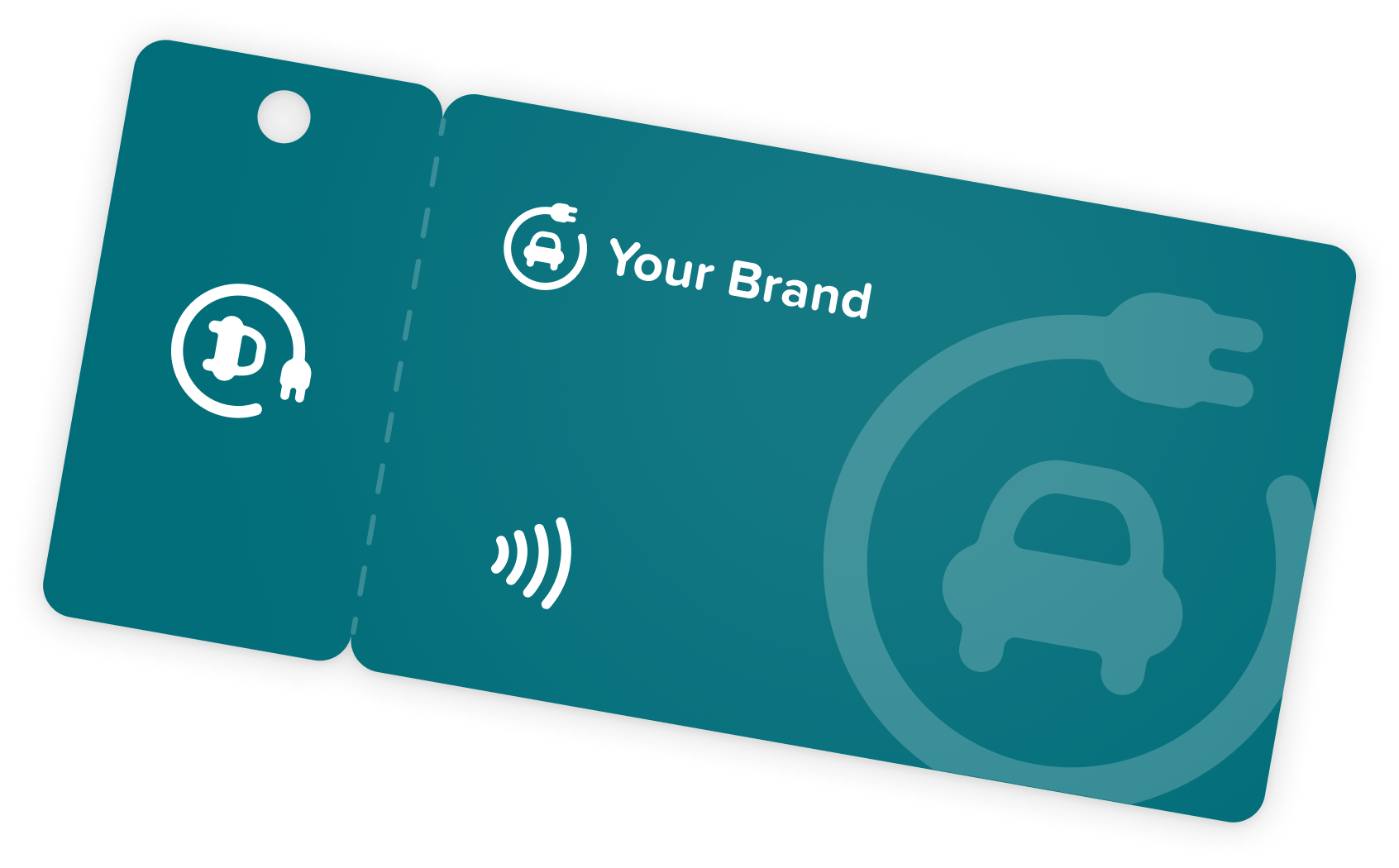 Looking for an EV charging station management solution that serves as a central hub for all your hardware and software needs? Get in touch with ChargeLab.
What are the benefits of white label EV charging software?
It's true that some companies choose to develop their own EV charging software solutions in-house, but if your team isn't explicitly dedicated to engineering, white labeling is a better way to go. Let's look at some of the key benefits of white label EV charger technology:
Increase customer loyalty
One of the most important benefits of white label EV charging technology is the ability to offer your customers, guests, or users a fully branded experience. With best-in-class hardware and software backing up your charging stations, you can ensure that your community has an outstanding experience every time they plug into your network. And because your company branding is displayed front and center every step of the way, that experience will reflect positively on your company. In that way, white labeling your EV network can make your brand more memorable, grow your credibility, and strengthen customer loyalty, leading to increased revenue over time.
Decrease time to market
Leveraging white label software for EV chargers accelerates your time to market by taking advantage of tried and true technology instead of forcing you to build your own system from scratch. Creating a charging software management system is incredibly complex, from building a team to designing and developing the technology and thoroughly testing it to ensure it's ready for public use. White label EV charger solutions can also be hardware agnostic, unlocking what is essentially a plug-and-play charging ecosystem you can put to work immediately. Using a white label solution keeps your team lean, and your staff focused on building your business instead of reinventing the wheel.
Eliminate unnecessary costs
In the same way that using a white label EV charger solution cuts down time to market; it also helps reduce unnecessary overhead costs and business expenses. Once you take into account big ticket line items like expert-level engineering salaries, the fees associated with procuring and maintaining tech resources, and the opportunity costs that come with dragged out production timelines, building software from the ground up can be prohibitively expensive (unless engineering is your main focus). Using white label tech eliminates those unnecessary costs so you can dedicate your budget and resources to critical business functions.
Reduce business risk
By accelerating time to market and eliminating unnecessary costs, white label EV charging solutions also effectively reduce the risk that your company has to take on. Once you've poured huge financial resources and many months into building custom EV charger technology yourself, failure hardly seems like an option. But in the business world, the reality is that many projects are doomed, whether they meet their end in an unsuccessful build or without ever achieving profitability. Using a white label solution protects your EV charging network from that fate by reducing the risk associated with potential failure; the ability to hit the ground running with proven technology means that even if your business has to pivot at the last minute or call it quits, you won't have anywhere near as much investment on the line.
Support growth at scale
If you're in the market for an EV charging solution, chances are you have long-term expansion plans for your business. With white label tech, you ensure that both the software and hardware components that power your charging network can grow along with your business and scale to support your company's success. Whether that means processing a higher volume of transactions, accepting various currencies and offering new languages, adding and managing a wider network of physical charging stations, or unlocking new features to support more users, using white label software will keep your strategy future-proof and poised for scalable growth over time.
What's the best way to get started with white label EV chargers?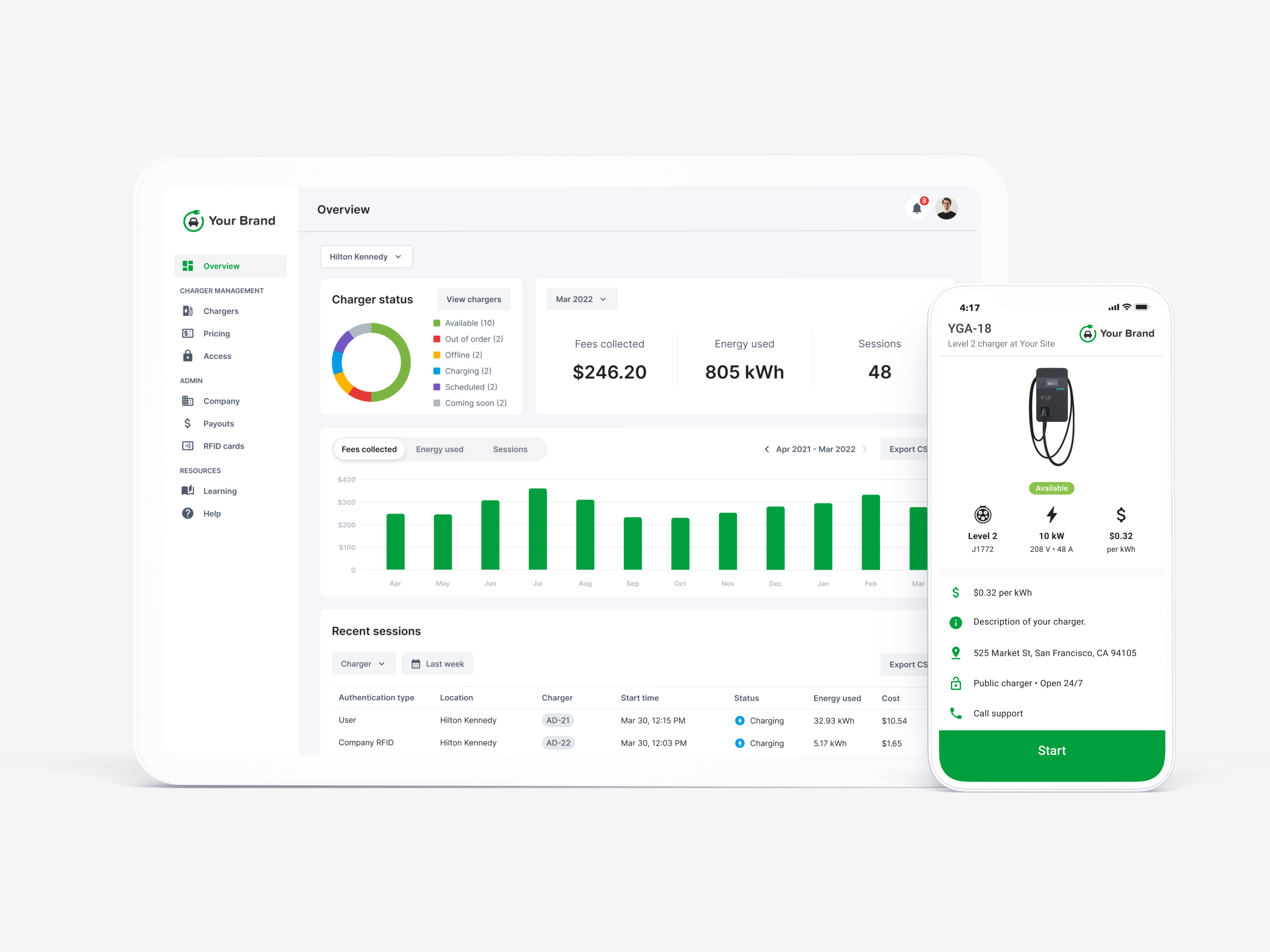 The first step in your journey to powering your network with white label EV charging technology is also the most crucial: finding a dedicated partner. ChargeLab's powerful white-label charging station management software is backed by an expert team with decades of experience in the electric vehicle space. The completely customizable solution is hardware agnostic, meaning it works seamlessly with any OCPP-compliant charging technology, and promises dynamic load balancing, 24/7 automated fault monitoring, secure payment processing, and countless other features. Ready to learn more about how our white label EV charger solution can work for your business? Contact ChargeLab today.