The electric vehicle (EV) market has reached a tipping point, with analysts projecting the industry will be worth over $350 billion by 2028. As consumers adopt EV options in greater numbers, they will need increased access to EV chargers to make commutes, grocery store runs, or road trips just as convenient as they are for gas-powered vehicles. This need is driving a similar boom in the EV charging market, which is projected to reach nearly $120 billion by 2028.
It's the perfect time to get in on the ground floor of this exciting new market and start your own EV charger business, or add EV charging services to an existing business. By offering EV charging services, you will be entering a rapidly growing market all while aiding in the transition toward a greener future. This article will outline what you need—from picking your business model to choosing the right software and hardware—to make your first 100 days and beyond a success.
Step 1: Identify your EV charger business model and start with one vertical
Before buying the hardware and software needed to start reselling EV charging solutions or set up your own EV charging network, you need to sort out a business model that will generate sustainable profit.
It's important to decide early on how your business will generate revenue. Will you own and operate EV charging stations and charge each driver per kWh, like a gas station charges per gallon? Or will you provide turnkey services to local businesses hoping to operate their own chargers? There's no wrong answer here, but your choice will likely be determined by where you're able to install charging stations and who you're planning on partnering with.
Most EV charger businesses will likely fall into one of four categories:
Charging networks operate similarly to a standard gas station chain (and may even be one trying to break into the EV charging industry). Networks own and operate their own chargers, and try to gain as much density within a region as possible to serve their customers.
Turnkey installers don't own any chargers, but will bring hardware, software, installation, and permitting expertise directly to businesses so they don't have to set an EV charger up themselves.
Service providers operate similarly to installers—many are often the same organization—but offer services beyond the initial sale and installation. For example, many service providers offer ongoing maintenance, offer financing programs, or even run the ongoing operation of charging stations for their clients.
Consultants who advise businesses on which chargers and software to pick and how many to install. Like installers, consultants don't own the chargers themselves, but they're also not responsible for installation or reselling hardware or software.
Once you've determined what your business looks like, you should start by targeting a single vertical market. Starting small early on will allow your business to focus on the best ways to reduce operating costs and maximize profits. Look into the following partnerships for opening your first EV charging locations:
Apartment buildings, condos, stratas, or other multi-family housing units.
Commercial real estate buildings for shoppers, office workers, or event-goers.
Hotels and resorts for guest use.
Retail locations, like grocery stores.
Restaurants or businesses in smaller cities to aid travelers between destinations.
No matter what option you pursue, your EV charger business will offer significant learnings during those first 100 days. You'll gather data points like how much energy drivers require, the times they're most likely to use your network, the associated costs for peak and off-hour charging, and your overall operating costs. That's why it's crucial to stick to one vertical at first—you'll be able to learn and grow within your chosen business model. As you gain more experience, you can expand into other types of businesses or locations.
Once you've chosen a suitable business model and decided on how to implement it, you can start investigating EV software and hardware that will fit your needs.
Step 2: Pick the right software to manage your EV network
Once you know where you'll install your charging stations, it's time to select the charging station management system (CSMS) to recommend to your customers, resell, or use to operate your own network. You may also hear a CSMS called a "CMS" (charger management software), a "back-end" or "back-office", or even an "OCPP platform".
Your chosen software will determine which charging hardware you're able to support, as some platforms only offer limited compatibility with certain manufacturers. It will also determine how drivers interface with your network and whether you can limit chargers to registered users or open the station to the public.
For maximum flexibility, seek out a hardware-agnostic solution like ChargeLab — meaning that owners can set it up to work with any hardware solution and use it as a white label offering under their own brand. The option to work with disparate styles of charging hardware won't likely be as crucial in your first 100 days, but makes it much easier to expand into new areas once you've laid a solid foundation for your business. Whatever software solution you choose should ensure grid access and payment information are secure and PCI-compliant.
While it's generally a better idea to lock in your software solution first, it may not be feasible for your situation. If you need to pick out the hardware first, ChargeLab would love to help find the right fit for your business needs. Our hardware expertise has provided us with unique insight and valuable partnerships with several OEMs, and we can provide an intro to get you started.
Whether you're looking to learn more about how our end-to-end EV infrastructure solution can get your charging network set up fast, or simply need to get your foot in the door with a hardware manufacturer, get in touch with ChargeLab and we'll point you in the right direction.
Step 3: Choose compatible hardware
You've found your niche, and you've picked the software to run your network. All that's left is to choose the right hardware for your first deployments
If you're using a hardware-agnostic CSMS like ChargeLab's to manage your EV infrastructure, you'll be able to choose from various manufacturers and hardware types that adhere to the Open Charge Point Protocol (OCPP). At that point, it comes down to picking the hardware that fits your business model and budget.
Keep in mind that there are three different charging levels that determine the station's charging speed and electric output. All EVs can use both Level 1 and 2 chargers, but some vehicles may not be compatible with the output of Level 3 chargers.
Level 1 chargers are typically found in homes and add around 5 miles of range per hour of charging. They're great for individuals and families who can leave their car charging overnight.
Level 2 chargers are also found in single-family homes but can also be found in residential or commercial buildings and require additional equipment to handle the higher voltage levels. These chargers provide up to 20 miles of range per hour of charging. Many turnkey installers rely on level 2 chargers, depending on the vertical they serve.
Level 3 chargers (also known as DC fast chargers) can provide anywhere from 40 to 200 miles or more of range in just ten minutes of charging. Many charging networks rely on DC fast chargers to provide speedy charging for drivers, who will often find them along busy highways and other major thoroughfares.
The leading OCPP-compliant hardware providers in North America include ABB, Delta Electronics, Eaton, EVBox, Siemens, Tritium, and Zerova.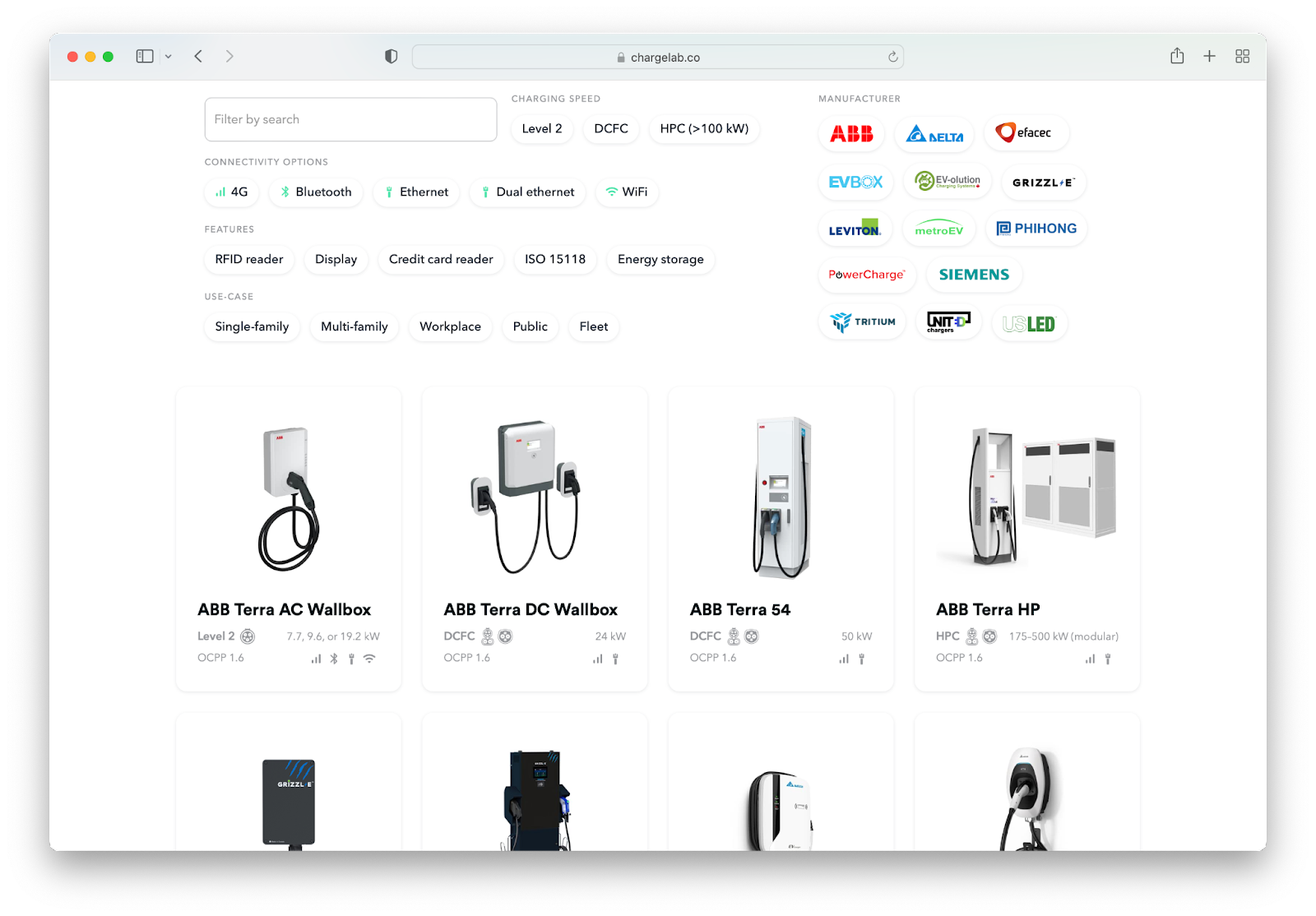 To explore hardware options for your EV charging business, check out ChargeLab's EV charger explorer tool.
As your business branches out into new verticals, you may want to consider adding additional models or hardware manufacturers to your network. However, starting with a single manufacturer will help ensure better rates from your hardware partner and keep maintenance, and business needs focused during your initial days on the market.
Partner with ChargeLab
When you're first building an EV charging empire, you need a partner to help maximize performance and be in this with you for the long haul. That's why you need ChargeLab: an industry-leading back-end software powering fleets, charging networks, and charging sites for Hilton, Mobile, Ford, and more. Charging should be simple, so we've designed our full-stack EV charging network solution to make managing several locations, processing data, and scaling up easy and painless.
Contact us today to discover how ChargeLab can start your EV charger business, integrate with the hardware you need, and keep things running smoothly during those first 100 days and all the days that follow.