Electric vehicles are the future, and as their adoption increases, so does the need for a solid logistical backbone of charging station infrastructure. And while the hardware that delivers thousands of kilowatts of electricity to cars worldwide is impressive in its own right, it must be paired with an appropriate software solution to provide a frustration-free experience for EV drivers, fleet owners, and enterprise managers.
There's a bit of a gold rush going on in the electric vehicle charging software world right now, but some software solutions are more akin to snake oil than precious metal. With that in mind, here are the best EV charging software solutions keeping cars moving, what makes them unique, and where they stand to improve.
The best electric vehicle charging software
ChargeLab
ChargeLab is a white-label, hardware-agnostic charging software solution that drives (no pun intended) some of the most popular EV charging stations across North America. Whereas Tesla is a stand-in for Apple in the EV market — in that its software only works with its products — ChargeLab likens itself to Android. The company focuses on interoperability, flexibility, and customizability, allowing users to introduce fine-tuned charging management to their fleet without sacrificing the quality of its customer-facing features. The software's robust and accessible features make it some of the best EV charging software available.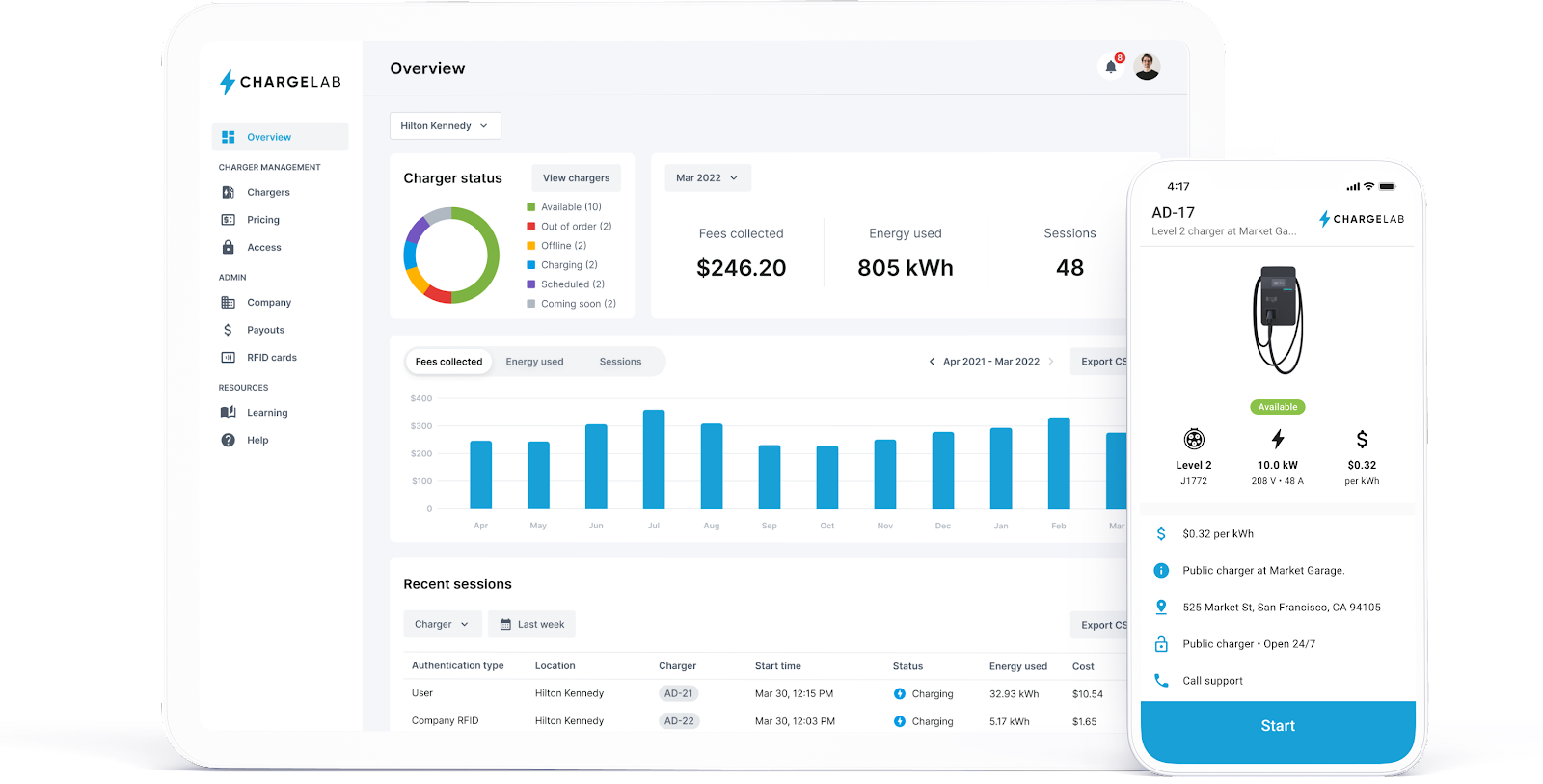 Key features:
ChargeLab's charging station management system (CSMS) allows users to easily access control settings, usage fees, and power management profiles.
The software is hardware-agnostic, which makes it easier for companies to expand in the future. As such, ChargeLab is at the forefront of scalability.
ChargeLab has a robust suite of add-ons available, which allow it to offer cellular services, a branded dashboard, API access, and more.

ChargePoint
ChargePoint's offerings of both software and hardware make it a good choice for organizations seeking a holistic solution to their EV charging needs. The company boasts the largest network of EV charging stations in the US and beyond by a wide margin, though it doesn't have as many fast charging stations as Tesla, its nearest competitor.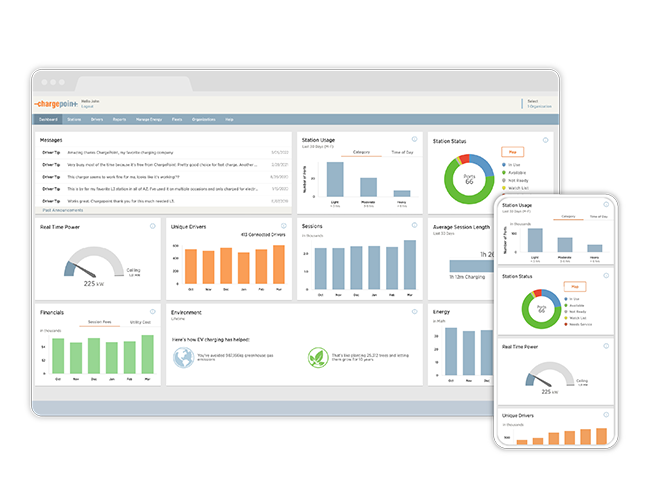 Key features:
ChargePoint has dedicated implementation services that can deploy EV charging stations at scale.
ChargePoint has over a decade of experience in the EV charging space and has constructed the largest charging infrastructure network currently available.
ChargePoint as a Service offers financing options that bundle the company's software, hardware, installation, and monitoring into one package.
Shell Recharge Solutions
Shell Recharge Solutions is backed by one of the energy industry's biggest names, and offers a turnkey solution for EV charging. The company's robust software solution is a good fit for fleets, cities, retailers, and more.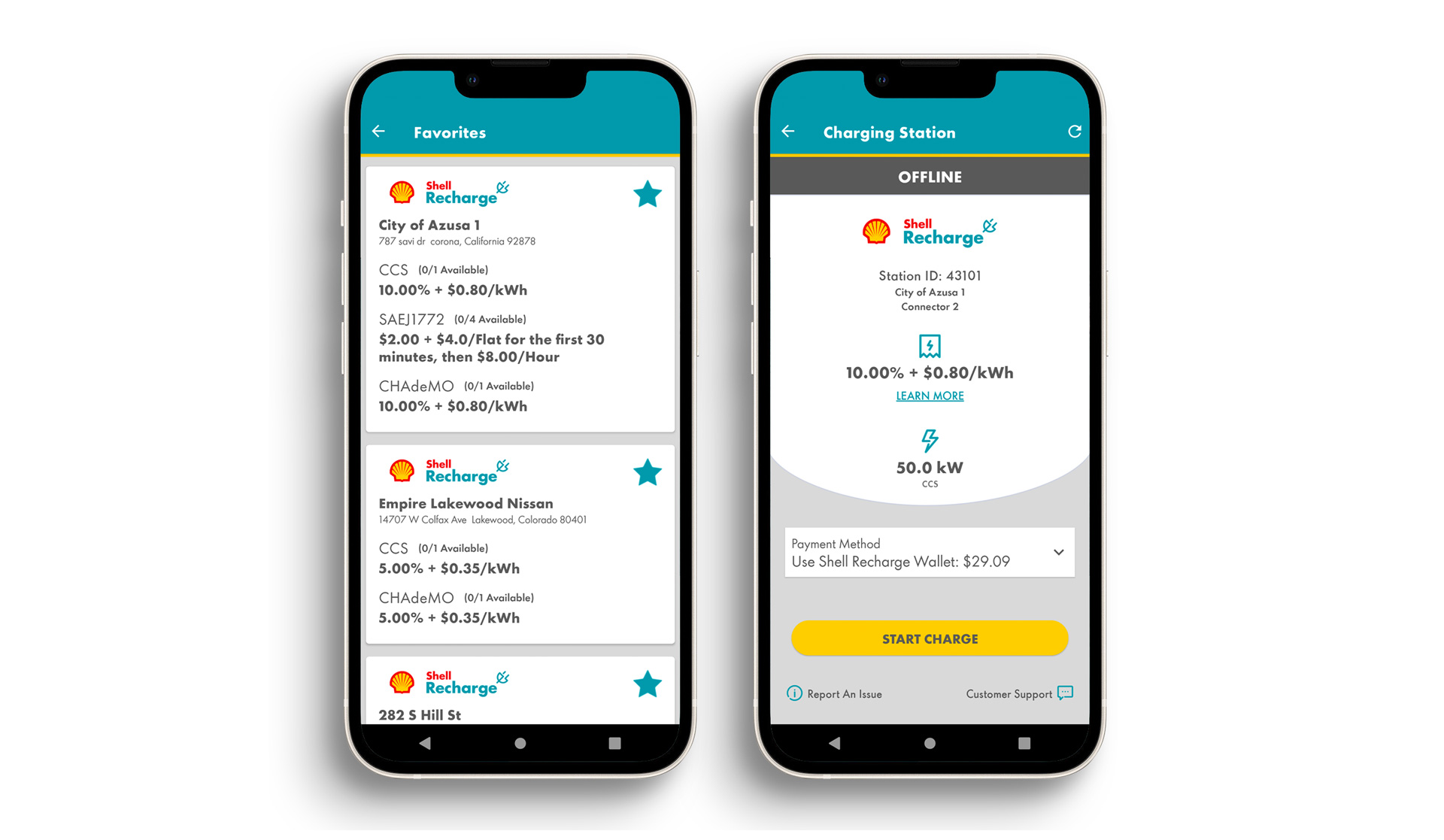 Key features:
Shell provides charging-as-a-service solutions with low upfront costs.
Shell offers full operation and maintenance service throughout an agreement period, ensuring that each station is running well.
Shell simplifies the installation process by handling site assessment, engineering, installation, and commissioning.
EV Connect
EV Connect is another white-label solution, servicing charging stations in schools, hospitals, hotels, and more. The company offers white-glove installation and setup, with consultation services designed to make the process as easy as possible. EV Connect's app has maintained positive customer reviews on both the App Store and Google Play.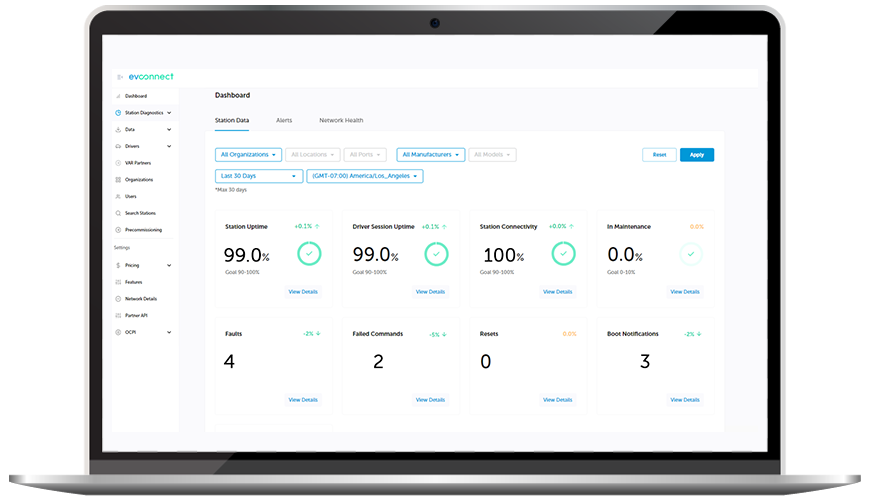 Key features:
EV Connect focuses on providing a pain-free install experience for its customers and a white-label software solution built for scalability.
The company's deployment consultation services make finding an EV charging solution that fits your budget and needs easier.
EV Connect Shield is a comprehensive warranty solution for EV charging stations, covering every aspect of operational maintenance.
Driivz
Driivz focuses its services on optimization, working to ensure that energy consumption is balanced throughout the day. The software helps overcome local grid capacity through intelligent charging technology, reducing the fees incurred during peak times. It can also redirect energy to local storage when prices are at their lowest, resulting in lower operating costs.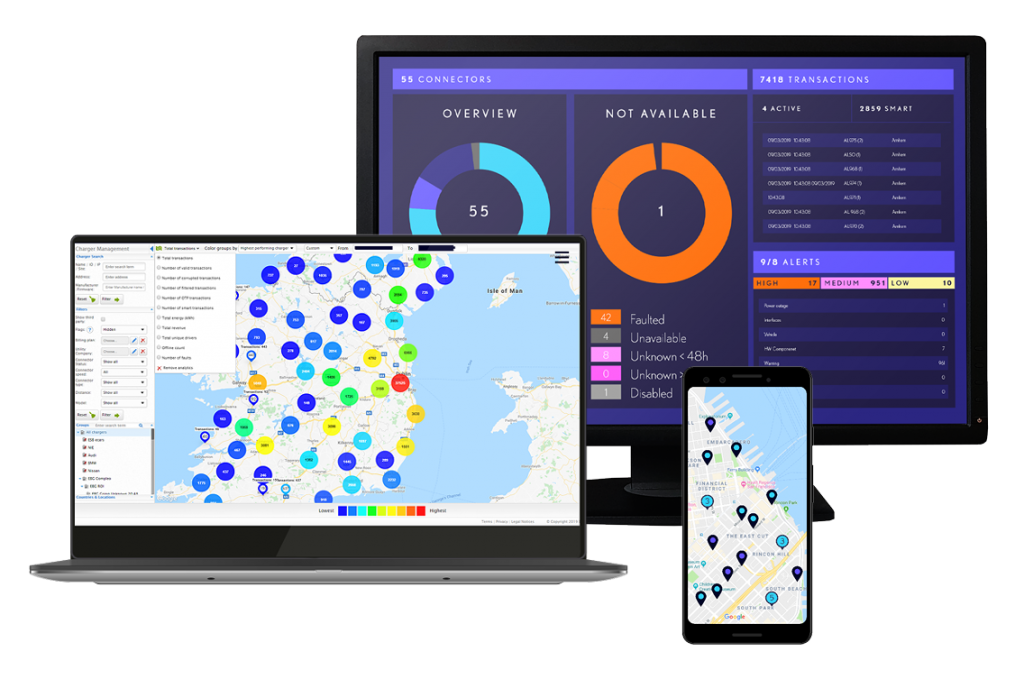 Key features:
Driivz offers optimization features that reduce the strain on local grid capacity, saving companies money.
Storing re-directed power is a simple, efficient way to lower operating costs.
Driivz operates in 27 countries throughout North and South America, Europe, and Asia, giving it a broad reach.
Honorable mentions:
There are plenty of EV charging station software solutions available. While the above list comprises the strongest contenders, here are a few options that barely fell short. While they have their share of exciting features, they missed the mark of "best" by a bit.
Blink
Blink is offers both hardware and software solutions, and has deployed more than 23,000 charging stations worldwide as of 2020 (including non-networked home chargers). The company's software and hardware offer all the staples but not much else.
What it's missing:
Blink is a jack of all trades solution, but its software support isn't quite able to live up to some of the other options on the market. Charging station operators may be better off with software that offers finer control over monetization.
Tridens EV Charge
Tridens EV Charge provides software for CPOs and EMSPs. Tridens allows you to manage EV chargers with remote commands and smart energy load balancing quickly and efficiently.
What it's missing:
Tridens covers a lot of ground in the IT industry, and EV charging software isn't its sole focus. While it can monetize any business model, picking a company focused solely on the EV market is a safer bet as the industry grows.
Choosing a partner
Consider each option carefully when deciding which is the best EV charging software for your company. You'll want to find a partner capable of scaling its services alongside you while providing a top-notch experience to you and your customers. ChargeLab is that solution, offering a robust white-label software suite that puts customizability and flexibility at the forefront. No matter where you're at in your EV charging business journey, ChargeLab is ready to help you grow ever onwards. Check out our software page to learn more.